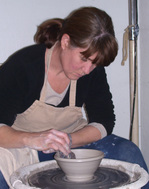 I truly enjoy making pots. I love the challenge of making a good, useful pot that someone will enjoy using every day. When I sit at my wheel each day I try to focus on how this piece will be used… how the rim will feel against the lip, if the handle will be comfortable to the hand and if this pot's form will hold someone's interest years from now. I'm also excited by the surfaces I've been able to achieve with salt firing and how that has allowed me to explore the relationship between surface and form.
Thank you for visiting my site!
Education
1991: BFA, California State University at Fullerton
1995 to present: Attended various ceramics courses and workshops.
​
Teaching:
Claymakers, Durham, NC 2009-Present
Galleries:
Cedar Creek Gallery
, Creedmoor, NC
Claymakers,
Durham NC
Hillsborough Gallery of Arts
,
Hillsborough, NC
Soque Artworks,
Clarkesville, GA
Exhibitions:
Steinfest, Contemporary Ceramic Beer Steins 2017
Claymakers Gallery
Durham, NC
National Teapot Show X, 2017
Cedar Creek Gallery
Creedmoor, NC
Cup and Bowl Shows 2016
Worchester Center for Crafts
Worchester, MA
Steinfest, Contemporary Ceramic Beer Steins 2016
Claymakers Gallery
Durham, NC
Cupful 2016
Cedar Creek Gallery
Creedmoor, NC

Winter Show 2016
Hill Center Gallery
Greensboro, NC

Winterfest 2016
Baltimore Clayworks
Baltimore, MD

Vessels of Merriment 2015
Grovewood Gallery
Asheville, NC

Steinfest, Contemporary Ceramic Beer Steins 2015
Claymakers Gallery
Durham, NC

Summer Still Life 2015
Cedar Creek Gallery
Creedmoor, NC

Cupful 2015
Cedar Creek Gallery
Jan. 10-Feb 16,
Creedmoor, NC
Steinfest, Contemporary Ceramic Beer Steins
Oct. 3 - Nov 21. 2014
Claymakers Gallery
Durham, NC
Conversations in Clay, June 13 - August 10, 2014
Three Person Show with Gillian Parke and Deborah Harris
Ackland Museum Store
Chapel Hill, NC
National Teapot Show VIII, June 2014
Cedar Creek Gallery, Creedmoor, NC
Southern Hospitality, January 2014
Baltimore Clayworks, Baltimore, MD
Two Person show with Linda Ide (paintings), Dec. 2013
Hillsborough Arts Council Gallery
, Hillsborough, NC
Steinzeugkrug: Present Day Interpretations, October, 2013
Claymakers Gallery
, Durham, NC
Two-person show with Bonnie Melton (paintings), September 2013
Horace Williams House, Chapel Hill, NC
Clay3, August, 2013
Kirby Gallery, Roxboro, NC
Handbuiilt, May 2013
Claymakers Gallery, Durham, NC
Bountiful Harvest, April 2013
Cedar Creek Gallery, Creedmoor, NC
Pouring Vessels, April 2013
Point of View Gallery, Burlington, NC
National Teapot Show VII, May 2011
Cedar Creek Gallery, Creedmoor, NC
The Winter Show, November 2010
Green Hill Center for NC Art, Winston-Salem, NC
Celebration of American Crafts, November, 2010
Creative Arts Network, New Haven CT
Celebration of American Crafts, November, 2009
Creative Arts Network, New Haven CT
Season of Lights, November 2009, 2010, 2011, 2012
Claymakers Gallery, Durham, NC
Fine Contemporary Crafts, November 2008
Artspace, Raleigh, NC
Blowing Rock Art in the Park Artist of Distinction, July 2008
Blowing Rock, NC
Vessels 2007, Juried Exhibition, February 2007
Claymakers, Durham, NC
Fine Contemporary Crafts, November 2006
Artspace, Raleigh, NC
Exploring Ceramic Surfaces: Works by North Carolina Clay Artists, October, 2006
Claymakers, Durham, NC
Nellie Allen Smith Commemorative, September 2006
Cape Fear Studios, Fayetteville, NC
Art Fairs:
ACC Shows, Baltimore and Atlanta
Carolina Designer Craftsmen Annual Show, Raleigh,NC
Piedmont Craftsmen Show, Winston-Salem, NC
Associations:
Carolina Designer Craftsmen
Piedmont Craftsmen Guild
---